ACHA Member Spotlight
ACHA Congratulates Annie Hightower!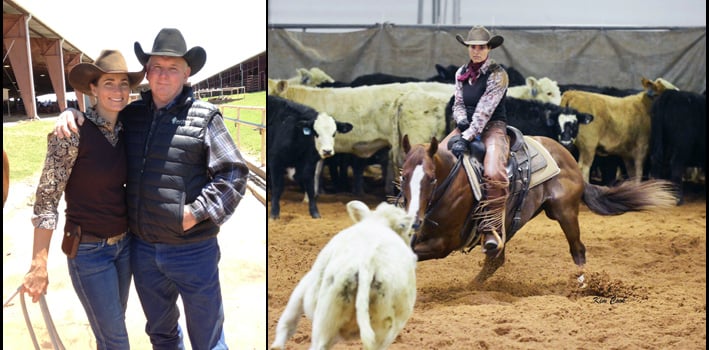 Recalling her beginnings in the cutting horse world, Annie just laughs and says, "It's all my husband's fault!" She truly had no attraction to those "stinky cows" before meeting John. She was a western dressage rider, having studied dressage since the age of 5. She had always been a rider at heart, though, and loved being astride any horse who was doing what it was born to do!
Her first experience in cutting was on one of her first "dates" with John. He took her to meet Trent Bell and she got to cut on John's mare, High Brow Dreamin. She was in awe watching Laney, Trent & Josey "going back and forth" with the cow. John asked if she wanted to give it a try. That's all it took. Fast forward a couple of years, to when she was introduced to "Royalreytraildust." He was originally purchased as a 4 year old for John, but during his 5 year old year, John thought maybe she was ready for him, even though she hadn't ridden a cutter since that first experience with Dream. Robert Fuentes, Doc's trainer at the time, was also a bit leery since she was so green and this was a particularly sensitive and fancy little horse. However, after many flag works, she had her first live cattle work. John and Robert were nodding their heads in agreement that the pair could 'get along pretty good.' Shortly afterward, she and Doc entered their first show, which was the beginning of a successful haul for two 2017 ACHA World Championship titles: 50,000 Non Pro World Champion, and Non Pro Classic World Champion.
Since the shift from a full time shoeing business to full time cattle work at Old River Ranch, Annie has found a special place in her heart for those "stinky cows." She never imagined a life so deeply involved with cattle and cutting horses. She treasures the camaraderie of the folks involved, friends and competitors, trainers and associates, folks she has had the great fortune to meet and share the ups and downs of life with. She shares that "I have been incredibly blessed to have the love and support of my husband, John, with our late-night herd work lessons fueling my desire to succeed. I also credit incredible trainers who push me and Doc to be the best we can be. Whether it's nailing a 75 ride or the cherry on top, I give thanks to our good Lord for being astride with me and having a hand in it all!"
---
ACHA Congratulates John L. Dublin!

John L. Dublin has a family history that is steeped in cutting horse involvement. His grandfather John Dublin, was one of the "pioneers" in cutting. His uncle, Chris Dublin, has been a major influence in cutting as well. Both men have had a huge impact on the success that John L has had. John L currently serves as Vice President of the ACHA and had a very successful year in 2017. He garnered many titles including: Open Reserve World Champion on Smooth Knitty Kitty, Open Classic World Champion on Catty Doc Legacy, Open Derby Reserve World Champion on Candi Eyed Jack, Open Top Ten on Busy Being Little and 15,000 Novice Horse Top Ten on BV Hollywood Badger. He was also voted 2017 Top Hand by his peers. He thanks his Lord and Savior Jesus Christ each and every day for the opportunities he has been given in life. John L. wants to thank his wife Anita for being his biggest supporter, and for being with him through thick and thin. He believes that the Amateurs and Non Pros are what "drive" any organization and feels very blessed to be a part of his customers' journey to their success. Although he has been very fortunate to be able to win on the horses that "he" shows, he admits it's a bigger thrill to see his customers do well in the show pen. John L. is aware that in order to have success, you must have good people on your side. Over the years he has made a lot of friends in and out of the show pen, and for that he is truly grateful. Thanks to you all, and GOD BLESS YOU.
---
ACHA Congratulates Bobbie Sue Shore!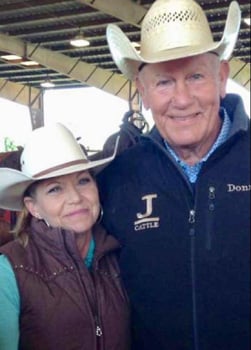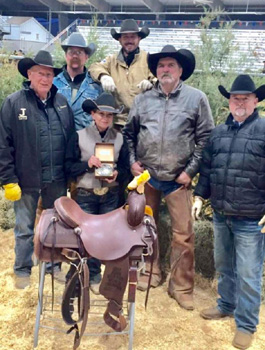 Bobbie Sue won her first cutting buckle in 1978, and several top ten NCHA Youth buckles in the 80's. She took a break from cutting when her daughter, Chelsey, was born and it wasn't until she met her "angel" Donnie, who convinced her to start showing again. She credits her husband with giving her back her dream - a wildly successful dream! Some of her achievements include: Top 15 NCHA 3000 Novice/NP, ACHA 25,000 Non Pro Reserve World Champion, and Top Ten 50,000 Non Pro. After acquiring the love of her life "Little Man" she won the 2013 Non Pro Classic World Champion, 2014 50,000 Non Pro World Champion and World Show Champion and on to become the 2017 Non Pro World Champion. She remembers her greatest moment in cutting, the morning of the 2014 Finals, when Donnie took her by the hand and said "Today is all about you baby, forget the world and go show your horse like you can.." She did and scored a 148 for the win. She gives all the credit to her husband, ACHA Open Hall of Fame Rider, Donnie Shore, who devoted his life to "Driving Miss Daisy" and helping her achieve this title and also to her help at the shows, saying she never could have won without them. Cutting is not just a hobby for Bobbie Sue, it is her life. She is passionate about her love for her cutting family and treasures every memory along the way.
---
ACHA Congratulates Trent Bell!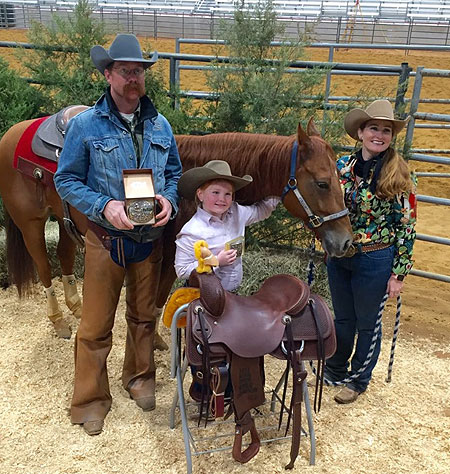 Trent Bell and his barn had another successful year in 2017! Trent was the ACHA High Point Rider for the year for the second year in a row. He was the Open World Champion on family-owned Cow Magnet and also rode the World Champion 15,000 Novice Horse - Gerry Gehring's Purrrfect. He made the top ten in the 3000 Novice Horse on family owned Kid Mecom Pink. Customers in Trent's barn captured World Champion titles including the 15,000 Novice Horse Non Pro, the Junior Youth, and the 1000 Novice Rider as well as Reserve World Champion in the Junior Youth. At the 2017 ACHA Championship Show, Trent was the Circuit Champion in the Open on Cow Magnet, and Reserve Circuit Champion in the 15,000 Novice Horse and the 3,000 Novice Horse on Purrrfect. He also received the Top Hand Award which was voted on by his peers. Trent attributes his success to having good horses to ride, excellent customers who pitch in, wonderful help in the pen, terrific help at home so he doesn't have to worry, and a loper who makes sure the horses are ready each time they step in the arena. He loves to say that cutting is a team sport, and every great run in the pen comes partly from having great help.
---
ACHA Congratulates Mary Bauer!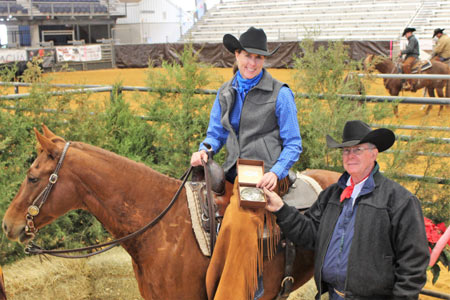 Click here to read the article in "Waco Today Magazine"
2017 was a sensational year for Mary Bauer - ACHA Rookie of the Year, 2500 Novice Rider Champion and her horse, Shake Your Budha, won ACHA Horse of the Year! A former national barrel racing champion, Mary runs Painted Ridge Farm in Lorena, TX and is following a lifelong passion of caring for horses and helping riders develop bonds with them. Her husband, Jeff, has a dental practice in Waco, and their 2 sons, Jeremy and Colton, are both college students and fine horsemen.

Upcoming Events
April 21 - 22
American Southwest Texas CHA - Belton, TX
---
April 28 & 29
American South Texas CHA - Brenham, TX
---
LATEST NEWS

RULE CHANGE:
There have been several rule changes for 2017
Click here to view!
---
Thank You Sponsors
2017 YEAR END SADDLE SPONSORS:
Sam Munroe
Brenham McDonald's
Derk Harmsen Construction
David & Martha Wilson
The Paul Bassel Family
Ronney & Alana Coleman
Mitchell Pipe & Supply, LLC
Bowers Veterinary Clinic - Jennifer Bowers, DVM
Jim & Rhonda Ross
J & A Livestock / Whitlock Cattle
The Cletus Hulling Barn
2017 Year End Sponsors:
Copenreygen
O & P Construction
Billy & Tracy Owens
Gehring Construction Co.
Bellville Abstract Co.
Leigh Ann Schultz
Bobby & Lynn Glover - In Memory of Charles Lamarr
Henson Family Dealerships
KCC Ranch
DLC Interests, Inc.
Dublin Cutting Horses
Waco Texas Futurity
Covert Ford, Inc. - Kenny Covert, Austin, TX
ACHA Extravaganza Sponsors:
Bell County Exposition Center
Franklin Family Ranch
Kelly Slover
Jamie & Terri Rounsaville
2017 ACHA Weekend Sponsors:
New LubriSyn Wound Care Product - "One Out of the Money"
Lee and Judy Barron
Jana Lowe
Bowers Veterinary Clinic
Tony & Jeannie Seamons
Lana Wells
Cletus Hulling Cutting Horses
Robert Fuentes Cutting Horses
Cowboy Breakfast
Independence Coffee
O & P Construction
Billy & Tracy Owens
Corky Sokol Cutting Horses
J & A Cattle Company
John & Annie Hightower
Somerville Feed / Thomas Moore
Derk Harmsen Construction