Latest Updates
4/15/14
4/21/14
3/29/12
2/18/14
4/21/14
10/7/13
8/5/13
6/3/1

3
1/14/1

4
10/7/13
Latest News

Have something to sell, trade or want to buy? Advertise in the ACHA Classifieds!


All forms on our site require Adobe Reader to view. Click here to get it for free!

Welcome to the American Cutting Horse Association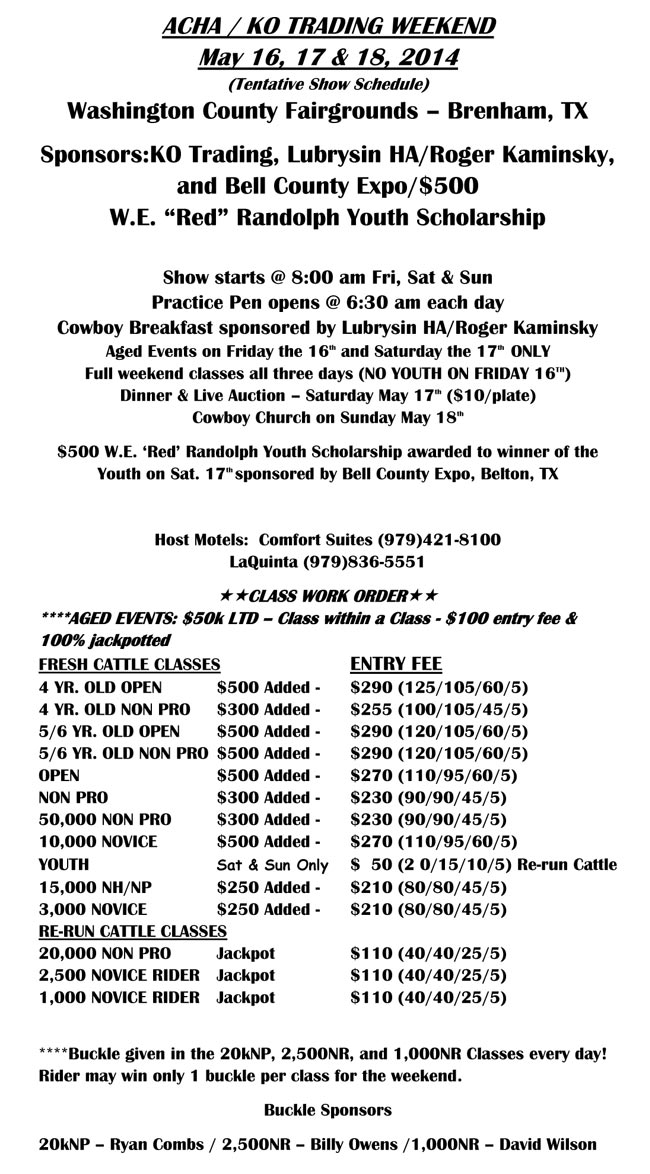 Click here to view the tentative schedule.
Friendly reminder to all ACHA members, and rule change notice -
Rule 16. of the ACHA Standing Rules and Bylaws states that: ALL members of the ACHA are responsible for determining class eligibility for themselves and all horses they own or
exhibit as determined by the combined records of all cutting horse associations on the first
day of the current point year (October 1st).

Rule 16F: The Limited Aged Event point year shall be January 1 to December 31, to coincide with the calendar year of the horse's aged event eligibility.
---
CONGRATULATIONS to ACHA member, Wesley Sinor, who has been elected a Show Vice President of the Houston Livestock Show & Rodeo. A lifetime member of the HLS&R since 2003, Wesley will serve as Officer in Charge of the Feed Store, Houston General Go Texan, Livestock, Rodeo Operations and Veterinarian committees. Congratulations Wesley!
---
ACHA Mission Statement
In continuance of the American West, and the ranching lifestyle, the American Cutting Horse Association strives to promote cutting horses as a competition sport. The goal of the ACHA is to promote the breeding, training and sport of these great horses in a competitive setting.

By the establishment of rules of conduct for cutting horse contests and the keeping of complete and accurate records of these contests, the ACHA seeks to promote and regulate the showing of cutting horses.
There is a place in the ACHA for contestants and their horses at any level and any goal. ACHA membership consists of people of diverse backgrounds and talents and encourages individuals, families and companies to become involved in the sport of cutting.


April 26 & 27 2014
ASWTCHA
Belton, TX
May 3 & 4 2014
American Western Sports CHA
Sulphur Springs, TX
May 16-18 2014
ACHA Weekend, Brenham, TX
2014 Year End Saddle Sponsors
Derk Harmsen Construction
J Bar Cattle & Horse Ranch
Home of "Cat of Many Colors"
Mitchell Equipment / Jackie Mitchell

Anyone interested in Sponsoring Year End Awards - please contact the ACHA office: 979-836-3370 or Lynn Glover: 254-541-3430
2014 Championships Show Sponsors
O & P Construction
2014 ACHA/KO TRADING WEEKEND SHOW SPONSORS