Latest Updates
7/29/16
8/18/16
8/23/16
8/23/16
6/3/1

5
1/10/1

5
4/17/15
Latest News
RULE CHANGE:
Rule 38M:......including a western hat/equestrian riding helmet
Due to an inquiry from contestants with regards to wearing an equestrian riding helmet instead of a western hat, the ACHA BOD voted unanimously to allow riders to wear riding helmets in competition and in the warm up area effective immediately.
Have something to sell, trade or want to buy? Advertise in the ACHA Classifieds!


All forms on our site require Adobe Reader to view. Click here to get it for free!
Welcome to the American Cutting Horse Association
The Championship Show dates are September 14 - 18.
Entries are due by September 1 - there is still plenty of time to qualify!
click on forms to view:
Aged Event Entry Form
Weekend Class Entry Form
Show Schedule
SPONSORED BY: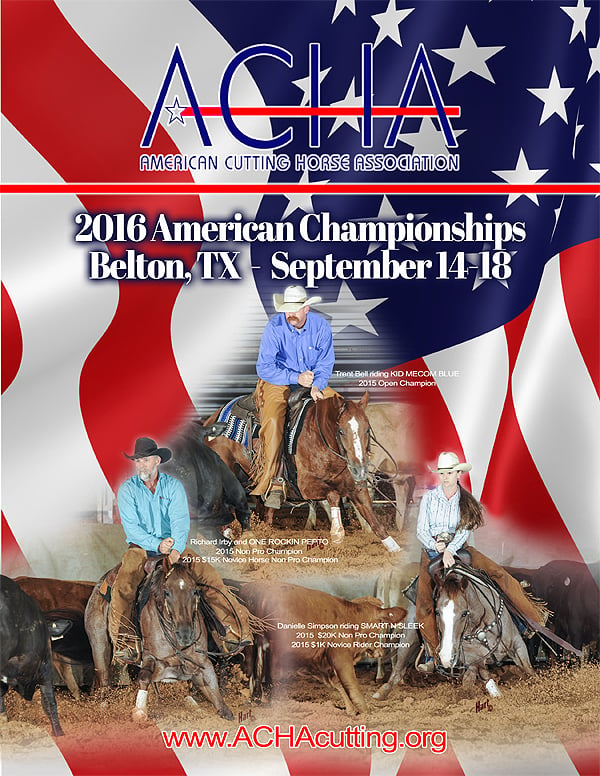 WORLD CHAMPION AWARDS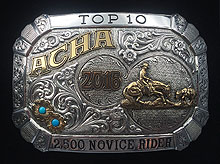 The 2016 ACHA World Champions, Reserve World Champions and Top Ten will be honored at an Awards Banquet on Friday, September 16 during the ACHA Championship Show in Belton, TX. Saddles and buckles will be presented.

ACHA/APHA Cowtown Cutting Circuit Champions


July 8-9, 2016

$50,000 Non-Pro Cutting
Lenas Painted Jewel – Chris Woods

$20,000 Non-Pro Cutting
Zans Texas Brink – Rick Wisdom


$2,500 Novice Rider Cutting
Rockette – Mike Lane

$1,000 Novice Rider Cutting
MH Genuinely Wiling – John Barnett

2016 ACHA Weekend Show Champions


Open Champion
Trent Bell riding Playgirls Prettypenny
owned by Carol & Troy Buchanan

Non Pro Champion
Lindy Wells riding KT Macs Kat


2015 ACHA Championship Show Champions


$20,000 Non Pro Champion
Danielle Simpson

$20,000 Reserve Non Pro Champion
Carol Buchanan

$10,000 Novice Horse Champion
Duals Blue Chantilly
Rider: Billy Bob Moore
Owner: Lee & Judy Barron

$10,000 NH Reserve Champion
Cow Magnet
Rider: Trent Bell
Owner: Laney Sikorski

$3,000 NH Champion
Zacks Delight
Rider: Ryan Combs
Owner: RDS Quarter Horses

$3,000 NH Reserve Champion
Hoo Dat Kat
Rider: Randy Fanning
Owner: Jeff & Misty Jones
Open Champion
Kid Mecom Blue
Rider: Trent Bell
Owner: Mark Holler
Open Reserve Champion
Howard E Hughes
Rider: Faron Hightower
Owner: Skip Hobbs

Non Pro Champion
Richard Irby

Non Pro Reserve Champion
Ryan Smith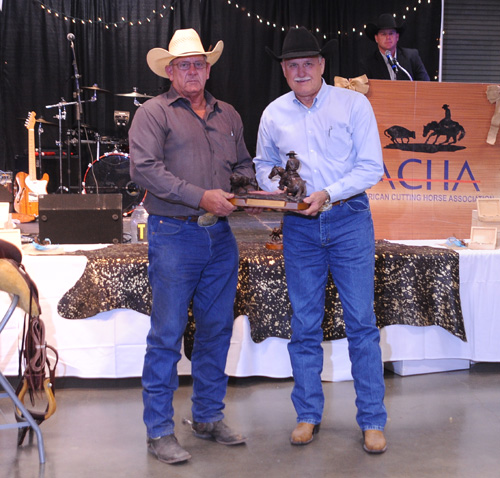 2015 High Point Horse
MS Kitty Ballou
Roland Reichardt (R) owner
Trophy being presented by Charlie Ashcraft (L)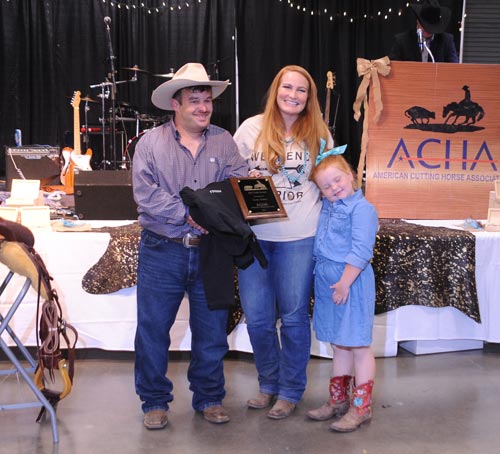 2015 Ben Todd Award
Laney Sikorski
Pictured is Ben Todd presenting the award
and Josey Sikorski

2015 Top Hands
(L to R) Trent Bell, John Stewart, Billy Bob Moore and Kyle Cox
Presenting the award are Tracy & Billy Owens, Sponsors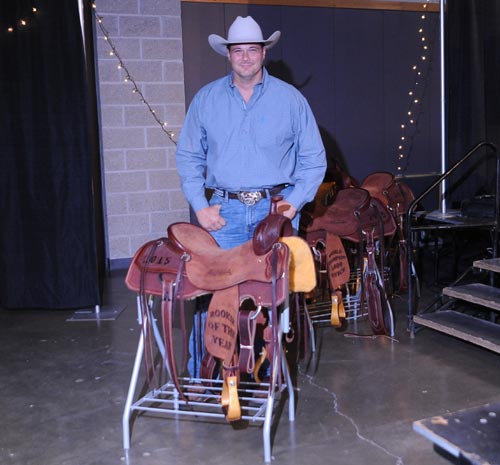 2015 ACHA Rookie of the Year
Jeremy Kinsworthy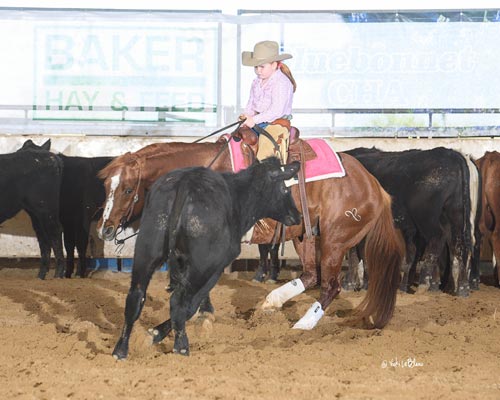 2015 Most Improved Youth
Josey Sikorski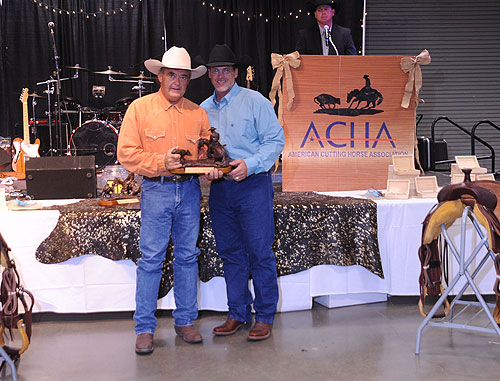 2015 Member Hall Of Fame Inductee Ellis Randolph
with President Elect Jason Borchardt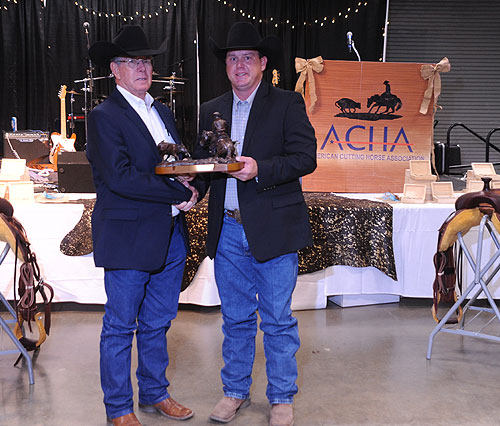 2015 Member Hall Of Fame Inductee Mike Combs
with ACHA President Ryan Combs
---
THANK YOU SAM MUNROE FOR YOUR GENEROSITY AND CONTINUED SUPPORT OF THE ACHA YOUTH!
2015-2016 Rules for McDonald's Shootout
For the current point year the Top Ten Junior Youth and the Top Ten Senior Youth will each compete in a one go round saddle shootout held at the American Championships. The rider must have shown at least 4 times at 1 affiliate or 8 times at any affiliate in the youth class in order to qualify for the shootout. The rider must compete in the shootout on a horse that he or she has shown at least one time in the youth class to qualify. The high scoring Junior and Senior Youth will each receive a McDonald's Shootout Saddle.

---
Rules for ACHA Double Judged Events:
ACHA double- judged events will be comprised of one show wherein two judges independently score each entry.
The purpose of the double- judged show will be to allow contestants to potentially earn monies under multiple judges, scoring separately, on one run.
Scores under both judges will be posted and announced after any reviews and after the class is complete.
There will be one set of points distributed for ACHA standings as described under Annual Awards in the ACHA rulebook. For point distribution, the scores of each judge will be combined for the purpose of allotting said set of points.
Double-judged events will be allowed to charge an additional office charge, as well as an additional entry fee. The latter is to be jackpotted at 100%. No additional cattle charges will be approved. All monies, including added monies, will be split and paid out equally under each judge.
Each double judged show will count as one show in accordance with Standing Rules 26A and 26E.
As with all ACHA contests, earnings toward year-end awards must be accumulated from events in compliance with Rule 16C of ACHA Standing Rules and Bylaws.
A show producer or affiliate will be allowed to hold four one-day double-judged events each year between October 1 and the following September 1.
---
Friendly reminder to all ACHA members, and rule change notice -
Rule 16. of the ACHA Standing Rules and Bylaws states that: ALL members of the ACHA are responsible for determining class eligibility for themselves and all horses they own or
exhibit as determined by the combined records of all cutting horse associations on the first
day of the current point year (October 1st).

Rule 16F: The Limited Aged Event point year shall be January 1 to December 31, to coincide with the calendar year of the horse's aged event eligibility.
---
ACHA Mission Statement
In continuance of the American West, and the ranching lifestyle, the American Cutting Horse Association strives to promote cutting horses as a competition sport. The goal of the ACHA is to promote the breeding, training and sport of these great horses in a competitive setting.

By the establishment of rules of conduct for cutting horse contests and the keeping of complete and accurate records of these contests, the ACHA seeks to promote and regulate the showing of cutting horses.
There is a place in the ACHA for contestants and their horses at any level and any goal. ACHA membership consists of people of diverse backgrounds and talents and encourages individuals, families and companies to become involved in the sport of cutting.


Aug 26, 27 & 28, 2016
American Southwest Texas - Belton, TX *Dome
Aug. 27, 2016
Oklahoma CHA - Corn, OK
Sept. 3 & 4, 2016
Western Sports CHA - Texas Star Ranch
Sulphur Springs, TX
Sept 14-18, 2016
American Championship Show - Belton, TX

2016 Jacket Sponsor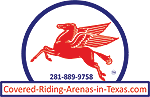 2016 Year End Saddle Sponsors


Sam Munroe/Brenham McDonald's (2 locations)
Ranch Investments Real Estate
Clarence Schulze, Agent
Derk Harmsen Construction
David & Martha Wilson
Gulf Coast Tool & Rental
Pat Kahanek
4 Queens & A Winning Hand
(Tharon Anderson, Jennifer Bowers, Lynn Glover, & Lana Wells)
RDS Quarter Horses / Brad Schafer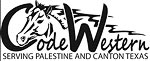 The Paul Bassel Family
2016 ACHA Year-End Sponsors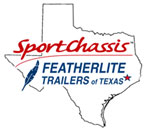 Henson Motor Co. Inc.


7K Construction/Bill Kyle Custom Homes
"In Memory of Jim Woods"
The Jim Woods Family

Coufal-Prater/Roger Kaminsky
Tim & Sherri Pike
O & P Construction/Billy & Tracy Owens
Old River Ranch/John Hightower
P & P Trailers
John & Sandi Stewart Cutting Horses
2016 Ranch Cutting Sponsors
Steve & Karen Robinson
SM Robinson Ranch
Live Oak Veterinary Clinic, Liberty Hill
2016 ACHA WEEKEND SHOW SPONSORS

Mitch Farris Cutting Horses
O & P Construction/Billy Owens
Jana Lowe
Chris Woods
Old River Ranch Cattle/John Hightower
Jason & Kristi Borchardt
Bowers Veterinary Clinic
Tony & Jeannie Seamons
Lee & Judy Barron
Jeremy Kinsworthy
Jason Moler
David Wilson
Derk Harmsen