Latest Updates
11/22/16
12/6/16
8/23/16
1/9/17
6/3/1

5
1/10/1

5
4/17/15
Latest News
RULE CHANGE:
There have been several rule changes for 2017.
Have something to sell, trade or want to buy? Advertise in the ACHA Classifieds!


All forms on our site require Adobe Reader to view. Click here to get it for free!
Welcome to the American Cutting Horse Association

2016 AGED EVENT CHAMPIONS


(Buckles to be awarded on January 7, 2017 at the American Southwest Belton show at noon)
OPEN Derby Top 5
Champion – Mecom Blue Feather / Rider Trent Bell / Owner Mark Hollar
Res Champion – Hava Nother On Me / Rider Ronnie Nettles / Owner Craig Anderson
3rd – Sweet Lil Pete / Rider John Dublin / Owner Randy Free
4th – Kitty Just Playin RG / Rider John Stewart / Owner Jennifer & Jeremy Vernon
5th – Peptos Storm Cloud / Rider Keith Barnett / Owner Bill Mihelich
Open Classic Top 5
Champion – Play With Missy / Rider Keith Barnett / Owner Scott & Kathie Wilson
Res Champion – Just Countin Checks / Rider Mike Curmpler / Owner Cole Eslyn
3rd – Stylish New Player / Rider Adam Cunningham / Owner Scott & Kathie Wilson
4th – Just Add A Lil Pepto /Rider Kyle Cox / Owner Duane Birdsong
5th – Shanias Pepto / Rider Sean Brown / Owner Stephanie Britt
NON-PRO Classic Top 5
Champion – Steadys Merada / Rider/Owner Jan Crawford
Res Champion – Kiss Ah This/ Rider/Owner Ronnie Smith
3rd – Show Biz Harriott / Rider/Owner Lisa Rosewell
4th – SB Miss Queenie / Rider/Owner Lana Wells
5th – Reys Over Denver / Rider/Owner Robert Thigpen


ACHA/APHA Cowtown Cutting Circuit Award Winners


Open - Jazari
Ridden by Robert Fuentes
owned by Joy Koch

Non Pro - Jennifer Bowers
on Rebels Jewel Bar

50k - Troy Buchanan
on Playgirl Prettypenny


15k NH - T Time
ridden by Mike McCarty
owned by Kim Bishop

Youth - Anna Marie Schreck
on My Tachita Lena

15k NH NP - Jessica MacNaughton
on Desire A Rey

20k - Karrie Simpson
on Cattinslittlechigger

2,500 - Sherry Stryker
on Boot Scootin Bonnie

1,000 - Michelle Hernandez
on Cadillac Dual Rey

3,000 - Mark Whitman
on Cheries Little Spot

2016 ACHA World Champions


Open Top Ten
Champion Playgirl Prettypenny/Trent Bell/Carol Buchanan
Res Champion Missed Me Once/John Stewart/Jose Rincon
Rockette/Ronnie Wartchow/Mike Lane
Jazari/Robert Fuentes/Joy Koch
Blakes Red Dual/Kyle Cox/Lucinda Bingham
Tuesdays High Brow/Gary Walker/Same
Need A Nurse Now/Mike Mowery/Lynda B Collins
MS Kitty Ballou/Roland Reichardt/Same
Duals Blue Chantilly/Billy Bob Moore/Lee Barron
High Brow Dreamin/Cletus Hulling/John Hightower

Non Pro Top Ten:
Champion James Kier
Res Champion Roland Reichardt
John Hightower, Lindy Wells,
Jennifer Bowers, Lucinda Bingham,
Richard Irby, George Evans, Rickie Cox,
and Jan Crawford

$1,000 NR Top Ten:
Champion Dan Leland, Res. Champion John Barnett, Kathy Nottingham, Mike Lane, Sierra Sells, Glenn Roach, Marnie Tidwell,
Joyce Miller, Michelle Hernandez, and Karrie Simpson.

$2,500 NR Top Ten:
Champion Stephanie Britt, Res Champion Cole Eslyn, Jessica Macnaughton, Dan Leland, Rick Wisdom, Leanne Jetton, Jeremy Kinsworthy, Jason Baker, John Barnett, and Joyce Miller.

SR Youth Top Ten:
Champion Colton Currie, Res Champion Kaylee Campbell Grant Valdez, Kaitlyn Bradbury, Rose Bassel, Morgan Starns, Paige Dawson, Justice Oates, Julia Crawford, and Tacy Webb

JR Youth Top Ten:
Champion Josey Sikorski, Res Champion J. T. West Taylor Mowery, Riley Farris, Anna Marie Schreck, Remington Cienega, Ellie Schreck, Jadeyn Garrett, Carlee Farrell, and Clay Sorrells

$20,000 Non Pro Top Ten:
Champion Cindy McGowan
Res Champion Leigh Ann Schultz
Betty Van Houten, Natalie Hammond,
Rick Wisdom, Andre Kliebert, Clarence Schulze,
Cole Eslyn, Kaitlyn Bradbury, and Gerald Abel

$50,000 NP Top Ten:
Champion Laney Sikorski
Res Champion John Hightower
Lindy Wells, Kaitlyn Bradbury,
Colton Currie, Danielle Simpson,
Chris Woods, Sandi Stewart,
Tracy Owens and Terri Rounsaville

$3,000 Novice Horse Top Ten:
Champion Hesa Sassy Indian/Luke Clement/Kevin Sonnier
Res Champion Meradas Lil Boon/Trent Bell/Jim Ross
Cantankorey/Pat Crawford/Paul Bradbury
Jazzed Oak/Tony Seamons/Chris Woods
Rockette/Ronnie Wartchow/Mike Lane
WH Shezachictaribyjr/Kyle Cox/Rick Wisdom
Flos My Thang/Michael Till/Same
Dual Smart Pepto/Corky Sokol/Same
Sanjo Lindox/Ronnie Wartchow/Marianne Carter

$10,000 Novice Horse Top Ten:
Champion Cow Magnet/Trent Bell/Laney Sikorski
Res Champ Peppys Poco Estrella/Kyle Cox/ Dan Leland
Hesa Sassy Indian/Luke Clement/Kevin Sonnier
Bearcat Feathers/Mike Combs/James Prater
Stylish Reygina/Billy Bob Moore/Lee Barron
Peppy Little Chic/Kyle Cox/Dan Leland
Lil Dashin Cat/Cletus Hulling/Jason Borchardt
Rockette/Ronnie Wartchow/Mike Lane
Smartys Secret/Mike Farris/Same
Smooth Starlight/Trent Bell/Andre Kliebert

$15,000 NHNP Top Ten:
Champion Playgirl Prettypenny / Carol Buchanan
Res Champion Heavens Lil Twister / Jennifer Bowers
Cantankorey / Paul Bradbury
Badgers Pretty Boy / Billy Owens
Hes Thumpin Special / Ronnie Smith
Scooters Free / Joy Koch
Shorty Smarty / Christine Perry
SL Pep Cee / Paul Bassel

2016 Year End Champions


2016 High Point Rider Trent Bell (L) and
2016 High Point Horse, Playgirl Prettypenny
Owner Carol Buchanan (R)

2016 ACHA Rider Hall Of Fame
Robert Fuentes, Teddy Johnson,
John Stewart, and Trent Bell

2016 Non Pro Hall Of Fame
Ronnie Smith (R)
Presenting trophy is ACHA Director,Chris Woods (L)


2016 ACHA Rookie Of The Year
Dan Leland (right)
Jason Borchardt presenting trophy


2016 Most Improved Youth
J. T. West.
Presenting the buckle ACHA President Jason Borchardt


2016 Member Hall Of Fame Inductees
Rosemary & Mike Randolph presenting award
is Jason Borchardt (middle)


2016 Ben Todd Award
Jamie & Terri Rounsaville
Pictured is Ben Todd (middle) presenting the award

2016 Top Hands
from (L to R) Ronnie Wartchow, Billy Bob Moore, Mike Combs, and Trent Bell
Presenting the awards are Tracy and Billy Owens, Sponsors.

2016 American Championship Show Champions


Open Champion
Tuesdays High Brow rider Gary Walker

Non Pro Champion
James Kier riding Smooth Knitty Kitty

$2,500 Novice Rider Champion
Jessica MacNaughton riding Desire A Rey

$1,000 Novice Rider Champion
Dan Leland riding Peppy Little Chic


McDonald's Shootout JR Youth Champion
Anna Marie Schreck

McDonald's Shootout SR Youth Champion
Paige Dawson


Junior Youth Champion
Taylor Mowery riding Tassajara Magic

Senior Youth Champion
Hayley Novak riding Plays Like A Cat

$50,000 Non Pro Champion
Aaron Russell Riding Little Kitty Karsyn


$3,000 NH Champion
Eskimo Sugar Rider Mark Mills
Owner Bobby Cotton


$10,000 Novice Horse Co-Champion
Quixotes San Chulena
Rider Mike Mowery
Owner Julianna Lindner

$10,000 Novice Horse Co-Champion
Tuesdays High Brow
Rider & Owner Gary Walker



Open Classic Champion
Foxy Spoonful Rider Jonathan Rogers
Owners Rob & Carrie Tiemann

Non Pro Classic Champion
Ryan Smith riding Kiss Ah This


Open Derby Champion
Bingos Merada Rider Robert Fuentes
Owner Sam Munroe

Non Pro Derby Champion
Ryan Smith riding Fancee This


Open Futurity Champion
Sassys Starlight Rider Constantine Caloudas
Owner Tony & Tina Palermo

$15,000NH/NP Champion
Cats Cutter Rider Billy Owens



$20,000 Non Pro Champion
Rhyn Smith riding Hes Thumpin Special

Ranch Horse Cutting Champion
Byron May riding Special Lil Pepto

2016 Affiliate Champion
Jessica MacNaughton
representing American Southwest Texas CHA
SPONSORED BY: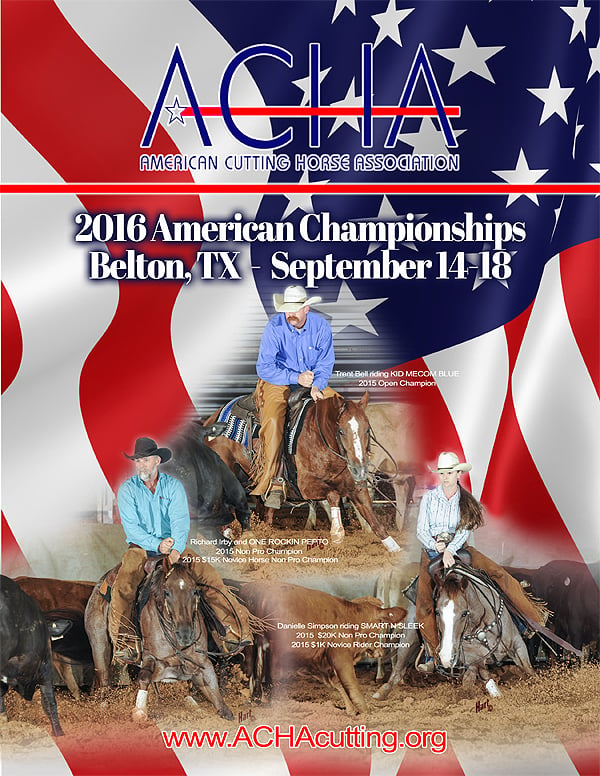 WORLD CHAMPION AWARDS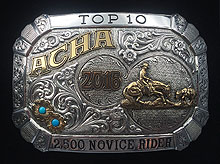 The 2016 ACHA World Champions, Reserve World Champions and Top Ten will be honored at an Awards Banquet on Friday, September 16 during the ACHA Championship Show in Belton, TX. Saddles and buckles will be presented.
---
THANK YOU SAM MUNROE FOR YOUR GENEROSITY AND CONTINUED SUPPORT OF THE ACHA YOUTH!
2016-2017 Rules for McDonald's Shootout
For the current point year the Top Ten Junior Youth and the Top Ten Senior Youth will each compete in a one go round saddle shootout held at the American Championships. The rider must have shown at least 4 times at 1 affiliate or 8 times at any affiliate in the youth class in order to qualify for the shootout. The rider must compete in the shootout on a horse that he or she has shown at least one time in the youth class to qualify. The high scoring Junior and Senior Youth will each receive a McDonald's Shootout Saddle.

---
Rules for ACHA Double Judged Events:
ACHA double- judged events will be comprised of one show wherein two judges independently score each entry.
The purpose of the double- judged show will be to allow contestants to potentially earn monies under multiple judges, scoring separately, on one run.
Scores under both judges will be posted and announced after any reviews and after the class is complete.
There will be one set of points distributed for ACHA standings as described under Annual Awards in the ACHA rulebook. For point distribution, the scores of each judge will be combined for the purpose of allotting said set of points.
Double-judged events will be allowed to charge an additional office charge, as well as an additional entry fee. The latter is to be jackpotted at 100%. No additional cattle charges will be approved. All monies, including added monies, will be split and paid out equally under each judge.
Each double judged show will count as one show in accordance with Standing Rules 26A and 26E.
As with all ACHA contests, earnings toward year-end awards must be accumulated from events in compliance with Rule 16C of ACHA Standing Rules and Bylaws.
A show producer or affiliate will be allowed to hold four one-day double-judged events each year between October 1 and the following September 1.
---
Friendly reminder to all ACHA members, and rule change notice -
Rule 16. of the ACHA Standing Rules and Bylaws states that: ALL members of the ACHA are responsible for determining class eligibility for themselves and all horses they own or
exhibit as determined by the combined records of all cutting horse associations on the first
day of the current point year (October 1st).

Rule 16F: The Limited Aged Event point year shall be January 1 to December 31, to coincide with the calendar year of the horse's aged event eligibility.
---
ACHA Mission Statement
In continuance of the American West, and the ranching lifestyle, the American Cutting Horse Association strives to promote cutting horses as a competition sport. The goal of the ACHA is to promote the breeding, training and sport of these great horses in a competitive setting.

By the establishment of rules of conduct for cutting horse contests and the keeping of complete and accurate records of these contests, the ACHA seeks to promote and regulate the showing of cutting horses.
There is a place in the ACHA for contestants and their horses at any level and any goal. ACHA membership consists of people of diverse backgrounds and talents and encourages individuals, families and companies to become involved in the sport of cutting.


Jan 21 & 22, 2017
American South Texas CHA
Brenham, TX
Jan 28 & 29, 2017
American Western Sports
Hopkins Co Climate Controlled Arena
Feb 11 & 12, 2017
Western Sports - Hopkins Co Climate Controlled Arena
2017 Year End Saddle Sponsors


Sam Munroe
Brenham McDonald's
(2 Locations)
2017 ACHA Year-End Sponsors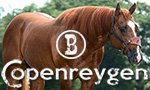 2017 Ranch Cutting Sponsors
2017 ACHA WEEKEND SHOW SPONSORS