Latest Updates
3/23/15
3/25/15
3/29/12
4/1/15
3/5/15
10/15/1

4
8/5/13
2/4/1

5
1/10/1

5
10/16/14
Latest News
RULE CHANGE:
Rule 38M:......including a western hat/equestrian riding helmet
Due to an inquiry from contestants with regards to wearing an equestrian riding helmet instead of a western hat, the ACHA BOD voted unanimously to allow riders to wear riding helmets in competition and in the warm up area effective immediately.
Have something to sell, trade or want to buy? Advertise in the ACHA Classifieds!


All forms on our site require Adobe Reader to view. Click here to get it for free!
Welcome to the American Cutting Horse Association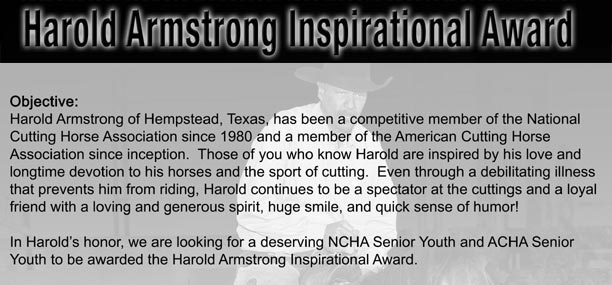 CLICK HERE for more information and scholarship application!
Completed applications must be received by May 1, 2015!
Donations can be made by sending a check to:
Marcy Blanchard, 7286 Hwy 97 East, Bebe, TX 78614
Please make checks payable to 'NCHA Charities Foundation' and include in the memo "Harold Armstrong Inspirational Award"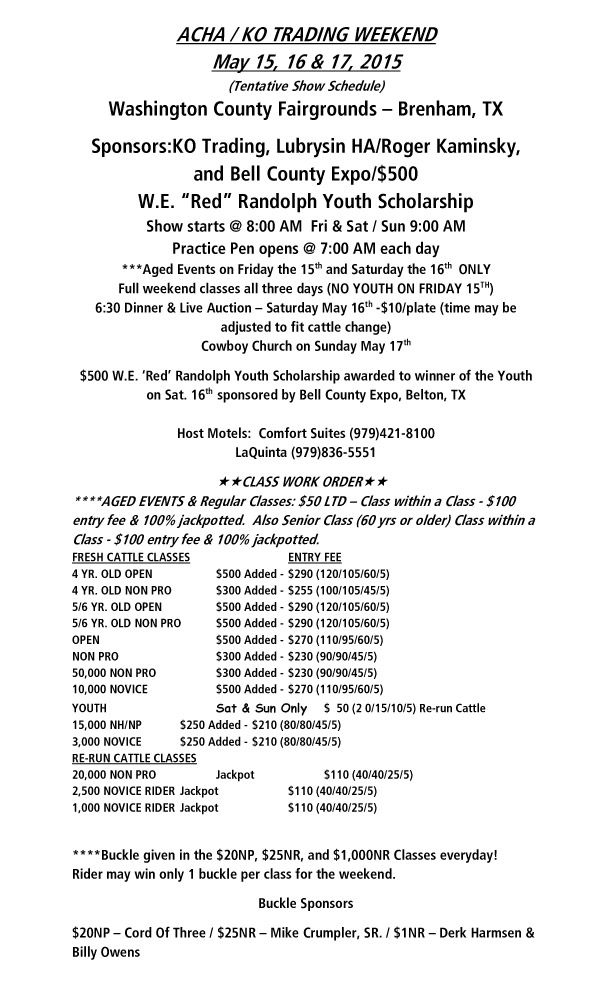 ---
SADDLE TO BE AWARDED TO THE 2015 ROOKIE OF THE YEAR!
A year end saddle has been graciously donated by Mr. Charlie Ashcraft to be awarded to the 2015 Rookie of the Year! Now that's a lot of incentive to get lots of time in the saddle! And for those of you who qualify for the rookie class but haven't yet started, it's not too late, come on out and join the fun. You might find yourself with a new saddle at the end of the year!
---
LubriSyn HA, proud supporter of the ACHA Youth, is donating 2 youth scholarships in the amounts of $1,000.00 and $1,500.00 to be awarded in July, 2015! The scholarships will be awarded based 50% on an essay as to "The Importance of Fulfilling the ACHA Mission Statement" and 50% on participation in ACHA events. The essay must be in the ACHA office no later than 12:00 am July 1, 2015. For more information, please contact the ACHA office at 979-836-3370
---
THANK YOU! TO ALL OUR SPONSORS, COMPETITORS, OWNERS, BOARD OF DIRECTORS, OFFICE STAFF, BELL COUNTY EXPO CENTER AND EVERYONE INVOLVED WITH MAKING THE 2014 ACHA CHAMPIONSHIPS A SUCCESS!

---
Rules for McDonald's Shootout
For the current point year the Top Ten Junior Youth and the Top Ten Senior Youth will each compete in a one go round saddle shootout held at the American Championships. The rider must have shown at least 4 times at 1 affiliate or 8 times at any affiliate in the youth class in order to qualify for the shootout. The rider must compete in the shootout on a horse that he or she has shown at least one time in the youth class to qualify. The high scoring Junior and Senior Youth will each receive a McDonald's Shootout Saddle.
---
Friendly reminder to all ACHA members, and rule change notice -
Rule 16. of the ACHA Standing Rules and Bylaws states that: ALL members of the ACHA are responsible for determining class eligibility for themselves and all horses they own or
exhibit as determined by the combined records of all cutting horse associations on the first
day of the current point year (October 1st).

Rule 16F: The Limited Aged Event point year shall be January 1 to December 31, to coincide with the calendar year of the horse's aged event eligibility.
---
ACHA Mission Statement
In continuance of the American West, and the ranching lifestyle, the American Cutting Horse Association strives to promote cutting horses as a competition sport. The goal of the ACHA is to promote the breeding, training and sport of these great horses in a competitive setting.

By the establishment of rules of conduct for cutting horse contests and the keeping of complete and accurate records of these contests, the ACHA seeks to promote and regulate the showing of cutting horses.
There is a place in the ACHA for contestants and their horses at any level and any goal. ACHA membership consists of people of diverse backgrounds and talents and encourages individuals, families and companies to become involved in the sport of cutting.


April 11 & 12, 2015
American Western Sports CHA
Sulphur Springs, TX
Texas Star Ranch
April 18 & 19, 2015
Am South TX, Brenham, TX
April 25 & 26, 2015
Southwest CHA - Belton, TX
2015 Year End Saddle Sponsors
Ranch Investments Real Estate
Clarence Schulze, Agent
Ronney and Alana Coleman
Derk Harmsen Construction
Citizens State Bank - Corrigan, TX
2014 Year End Saddle Sponsors
Derk Harmsen Construction
J Bar Cattle & Horse Ranch
Home of "Cat of Many Colors"

Robert Thigpen, Jr.
Ronney & Alana Coleman
Russell & Cathy McGehee
Brad Buckley, DVM
Anyone interested in Sponsoring Year End Awards - please contact the ACHA office: 979-836-3370 or Lynn Glover: 254-541-3430
2014 Championships Show Sponsors
O & P Construction
Lana Wells


The Family of Jim Woods
Robert Thigpen, Jr.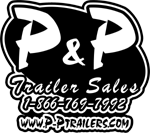 Rocking Double S Services & RDS Qtr Horses, LLC

BVEH - Salado
2014 ACHA/KO TRADING WEEKEND SHOW SPONSORS