Welcome to the American Cutting Horse Association
Condolences to the family of Richard Sims in the loss of his mother Martha "Honey" Sims Candelari (79) on December 11, 2014. Funeral Services are pending at Memorial Oaks Chapel, 1306 W. Main St, Brenham, TX (979-836-4564)
---
LubriSyn HA, proud supporter of the ACHA Youth, is donating 2 youth scholarships in the amounts of $1,000.00 and $1,500.00 to be awarded in July, 2015! The scholarships will be awarded based 50% on an essay as to "The Importance of Fulfilling the ACHA Mission Statement" and 50% on participation in ACHA events. The essay must be in the ACHA office no later than 12:00 am July 1, 2015. For more information, please contact the ACHA office at 979-836-3370
---
THANK YOU! TO ALL OUR SPONSORS, COMPETITORS, OWNERS, BOARD OF DIRECTORS, OFFICE STAFF, BELL COUNTY EXPO CENTER AND EVERYONE INVOLVED WITH MAKING THE 2014 ACHA CHAMPIONSHIPS A SUCCESS!
CONGRATULATIONS ACHA 2014 YEAR END CHAMPIONS!
(Please go to Standings under General Information above for the complete top ten listings)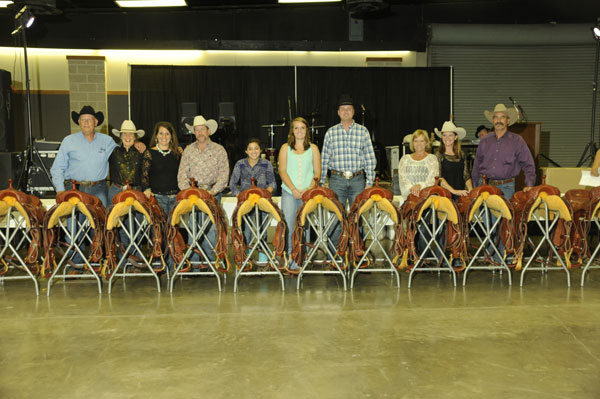 Open Champion: Cat of Many Colors -Rider: Donnie Shore Owner: Jimmy Wayne Rollins
Res: Jazari - Rider: Keith Barnett Owner: Joy Koch
Non Pro Champion: Jennifer Bowers
Res: Roland Reichardt
50,000 Non Pro Champion: Bobby Sue Shore
Res: Martha Wilson
10,000 Nov Horse Champion: Whiskey Merada -Rider: Mike Crumpler Owner: Kathleen Love
Res: Cat of Many Colors -Rider: Donnie Shore Owner: Jimmy Wayne Rollins
15,000 NHNP Champion: Lenas Painted Jewel & Christopher Woods
Res: Dualin Quixote & Bill Kyle
20,000 Non Pro Champion: Jennifer Vernon
Res: Cindy McGowan
3,000 Nov Horse Champion: Dynamites Red Cat - Rider: John Stewart Owner: Jose Rincon
Res: Smart Sunday Playboy - Rider: Mike Crumpler, Jr. Owner: Randermann QH
2,500 Nov Rider Champion: Gretchen Hawksworth
Res: Andre Kliebert
1,000 Nov Rider Champion: Gretchen Hawksworth
Res: Addy Alucema
Sr. Youth Champion: Madelynn Rucker
Res: Jimmie Annoot
Jr. Youth Champion: Remington Cienega
Res: Kaitlyn Bradbury
HIGH POINT HORSE: PEPPY LA ONE Owned By Gretchen Hawksworth
HIGH POINT RIDER: JOHN STEWART
ROOKIE OF THE YEAR: GRETCHEN HAWKSWORTH
TOP HAND AWARDS: TRENT BELL, DONNIE SHORE, KEITH BARNETT AND MIKE CRUMPLER, SR.
MEMBERS HALL OF FAME: CHARLES LAMARR AND HAROLD ARMSTRONG
OPEN RIDER HALL OF FAME: RUSSELL MCGEHEE
BEN TODD AWARD: DAVID WILSON
MOST IMPROVED YOUTH: HUNTER HICKS
NEVER WON A BUCKLE CLASS (held during 2014 Championships) : Jason Moler
2014 ACHA Championships photos available at www.hartphotos.us
2014 ACHA Championships videos available at www.vickileblanc.com
---
Please welcome new ACHA Board Members
Chris Fairbanks, Jason Borchardt, Lana Wells and Mike Crumpler, Sr.

---
Rules for McDonald's Shootout
For the current point year the Top Ten Junior Youth and the Top Ten Senior Youth will each compete in a one go round saddle shootout held at the American Championships. The rider must have shown at least 4 times at 1 affiliate or 8 times at any affiliate in the youth class in order to qualify for the shootout. The rider must compete in the shootout on a horse that he or she has shown at least one time in the youth class to qualify. The high scoring Junior and Senior Youth will each receive a McDonald's Shootout Saddle.
---
Friendly reminder to all ACHA members, and rule change notice -
Rule 16. of the ACHA Standing Rules and Bylaws states that: ALL members of the ACHA are responsible for determining class eligibility for themselves and all horses they own or
exhibit as determined by the combined records of all cutting horse associations on the first
day of the current point year (October 1st).

Rule 16F: The Limited Aged Event point year shall be January 1 to December 31, to coincide with the calendar year of the horse's aged event eligibility.
---
ACHA Mission Statement
In continuance of the American West, and the ranching lifestyle, the American Cutting Horse Association strives to promote cutting horses as a competition sport. The goal of the ACHA is to promote the breeding, training and sport of these great horses in a competitive setting.

By the establishment of rules of conduct for cutting horse contests and the keeping of complete and accurate records of these contests, the ACHA seeks to promote and regulate the showing of cutting horses.
There is a place in the ACHA for contestants and their horses at any level and any goal. ACHA membership consists of people of diverse backgrounds and talents and encourages individuals, families and companies to become involved in the sport of cutting.