Latest Updates
3/23/15
5/19/15
4/29/15
5/13/15
2/4/1

5
1/10/1

5
4/17/15
Latest News
RULE CHANGE:
Rule 38M:......including a western hat/equestrian riding helmet
Due to an inquiry from contestants with regards to wearing an equestrian riding helmet instead of a western hat, the ACHA BOD voted unanimously to allow riders to wear riding helmets in competition and in the warm up area effective immediately.
Have something to sell, trade or want to buy? Advertise in the ACHA Classifieds!


All forms on our site require Adobe Reader to view. Click here to get it for free!
Welcome to the American Cutting Horse Association
CONGRATULATIONS!


2015 ACHA Weekend Circuit Awards

Class
Horse
Rider
Owner
4 Yr Old Open
1
PRF Dancer Margarita
Robert Fuentes
Pete Deleeuw
2
Small Promises
Kyle Cox
Jennifer Barnett
3
Fred Claus
Robert Fuentes
Tom Haynie
4 Yr Old Non Pro
1
Royalreytraildust
John Hightower
Same
2
Pareydox
Brad Buckley
Same
3
Small Promises
Jennifer Barnett
Same
5/6 Yr Old Open
1
Looney Cat
Charlie Ashcraft
Lauren Fairbanks
2
Peptos Paving Rey
Matthew Blewitt
Mark Senn
3
Smooth Starlight
Trent Bell
Andre Kliebert
5/6 Yr Old Non Pro
1
Badgers Pretty Boy
Billy Owens
Same
2
Smooth Starlight
Andre Kliebert
Same
3
Cow Magnet
Laney Sikorski
Same
Open
1
Sweet Little Louie
Bob Hunter
John Giannukos
2
Woody Be Lazy
Kyle Cox
Richard Irby
3
Jazari
Robert Fuentes
JoyKoch
Non Pro
1
Jazari
Joy Koch
Same
2
Red Money Merada
David Conn
Same
3
High Brow Dreamin
John Hightower
Same
$50,000 Non Pro
1
High Brow Dreamin
John Hightower
Same
2
Sanjoestumbleweed
Chandler Borchardt
Same
3
Fletchtime
Martha Wilson
Same
$10,000 Novice Horse
1
Purdy Smart Cat
Keith Barnett
Juan Gonzalez
2
Desire A Rey
Billy Bob Moore
Lee Barron
3
Gator Bright
Bob Bouget
Irvin LeBlanc
SR Youth
1
Cat Cha Ride
Colton Currie
Same
2
Smart Oh Cay
Madelynn Rucker
Tracy Rucker
3
Redneck Yachtclub
Hannah Hunter
Wesley Sinor
JR Youth
1
Burr Quil
Hayden Moler
Jason Moler
2
The Flashy Colonel
Ashlynn Winzenried
Ray & Tina Richardson
3
Mentiroso Drift
Peyton Moler
Sandi Stewart
$15,000 N.H. Non Pro
1
Mr Dualing Freckles
Monte Locke
Same
2
Heavens Lil Twister
Jennifer Bowers
Same
3
MH Strawberry Boon
Ted Gardemal
Same
$3,000 Novice Horse
1
Chulatte
Charlis Ashcraft
Chris Fairbanks
2
Duals Brigaboon
Mike Crumpler, SR
Bill Kyle
$20,000 Non Pro
1
Jigger Of Whiskey
Paul Vaughan
Same
2
Oak K Smarty
Tina Richardson
Same
3
Miss Dual Twist
Cindy McGowan
Same
$2,500 Novice Rider
1
Jassy Little Jewel
Hunter Hicks
Same
2
MH Genuinely Willing
Jennifer Barnett
Same
3
Freckles R Fancy
Annie Hightower
Joy Koch
$1,000 Novice Rider
1
One Smart One
Tim Pike
Same
2
Dynamites Red Cat
Justin Stewart
Charlotte Wishard
3
Tummys Smart Lena
Camille Abbott
Same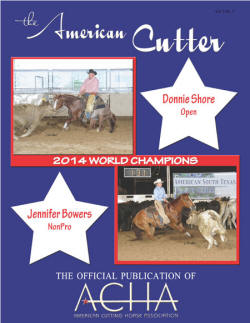 Click to view our online publication
---
SADDLE TO BE AWARDED TO THE 2015 ROOKIE OF THE YEAR!
A year end saddle has been graciously donated by Mr. Charlie Ashcraft to be awarded to the 2015 Rookie of the Year! Now that's a lot of incentive to get lots of time in the saddle! And for those of you who qualify for the rookie class but haven't yet started, it's not too late, come on out and join the fun. You might find yourself with a new saddle at the end of the year!
---
LubriSyn HA, proud supporter of the ACHA Youth, is donating 2 youth scholarships in the amounts of $1,000.00 and $1,500.00 to be awarded in July, 2015! The scholarships will be awarded based 50% on an essay as to "The Importance of Fulfilling the ACHA Mission Statement" and 50% on participation in ACHA events. The essay must be in the ACHA office no later than 12:00 am July 1, 2015. For more information, please contact the ACHA office at 979-836-3370
---
Friendly reminder to all ACHA members, and rule change notice -
Rule 16. of the ACHA Standing Rules and Bylaws states that: ALL members of the ACHA are responsible for determining class eligibility for themselves and all horses they own or
exhibit as determined by the combined records of all cutting horse associations on the first
day of the current point year (October 1st).

Rule 16F: The Limited Aged Event point year shall be January 1 to December 31, to coincide with the calendar year of the horse's aged event eligibility.
---
ACHA Mission Statement
In continuance of the American West, and the ranching lifestyle, the American Cutting Horse Association strives to promote cutting horses as a competition sport. The goal of the ACHA is to promote the breeding, training and sport of these great horses in a competitive setting.

By the establishment of rules of conduct for cutting horse contests and the keeping of complete and accurate records of these contests, the ACHA seeks to promote and regulate the showing of cutting horses.
There is a place in the ACHA for contestants and their horses at any level and any goal. ACHA membership consists of people of diverse backgrounds and talents and encourages individuals, families and companies to become involved in the sport of cutting.


June 13 & 14, 2015
Am South TX, Brenham, TX
June 20 & 21, 2015
American Western Sports CHA
Sulphur Springs, TX
Texas Star Ranch
June 26, 27, & 28, 2015
Southwest CHA - Belton, TX
2015 Year End Saddle Sponsors
Ranch Investments Real Estate
Clarence Schulze, Agent
Ronney and Alana Coleman
Derk Harmsen Construction
Citizens State Bank - Corrigan, TX
Cord Of Three
Anyone interested in Sponsoring Year End Awards - please contact the ACHA office: 979-836-3370 or Lynn Glover: 254-541-3430
2015 ACHA/KO TRADING WEEKEND SHOW SPONSORS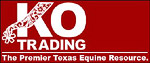 Bobby & Lynn Glover
Jackie Mitchell
Gail Matthews
Martha Wilson
Jana Lowe
Chris Fairbanks
Lana Wells
Billy Owens
Derk Harmsen
Mike Crumpler, Sr.
Cord Of Three Enterprises