Welcome to the ACHA
In continuance of the American West, and the ranching lifestyle, the American Cutting Horse Association strives to promote cutting horses as a competition sport. The goal of the ACHA is to promote the breeding, training and sport of these great horses in a competitive setting.
By the establishment of rules of conduct for cutting horse contests and the keeping of complete and accurate records of these contests, the ACHA seeks to promote and regulate the showing of cutting horses.
There is a place in the ACHA for contestants and their horses at any level and any goal. ACHA membership consists of people of diverse backgrounds and talents and encourages individuals, families and companies to become involved in the sport of cutting.
---
To register for the Kathy Daughn Clinic on
May 18, 2017 please call the ACHA office
979-836-3370 or email achacutting@yahoo.com
YOU MUST PRE-REGISTER
---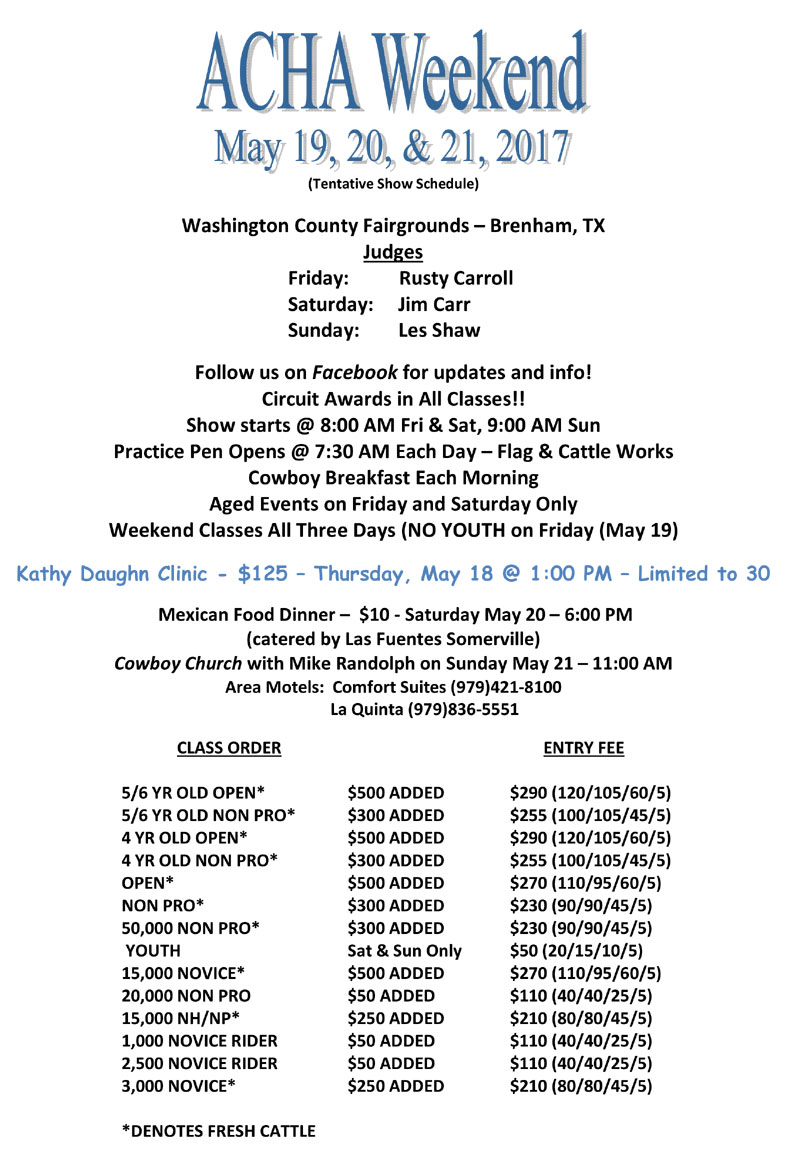 ---
The ACHA would like to offer its condolences to the Gary Walker family on the loss of Tuesday's Highbrow.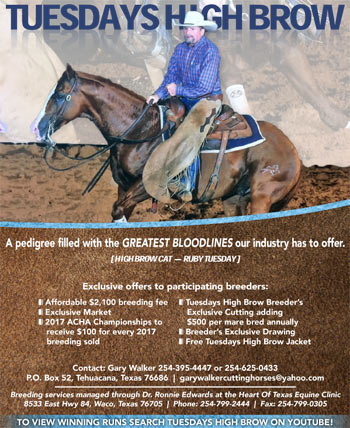 Tuesdays High Brow & Gary Walker
Exclusive offers to participating breeders
Affordable $2,100 breeding fee
Exclusive Market
2017 ACHA Championships to receive $100 for every 2017 breeding sold
Tuesdays High Brow Breeder's Exclusive Cutting adding $500 per mare bred annually
Breeder's Exclusive Drawing
Free Tuesdays High Brow Jacket
---
2016 AGED EVENT CHAMPIONS
OPEN Derby Top 5
Champion – Mecom Blue Feather / Rider Trent Bell / Owner Mark Hollar
Res Champion – Hava Nother On Me / Rider Ronnie Nettles / Owner Craig Anderson
3rd – Sweet Lil Pete / Rider John Dublin / Owner Randy Free
4th – Kitty Just Playin RG / Rider John Stewart / Owner Jennifer & Jeremy Vernon
5th – Peptos Storm Cloud / Rider Keith Barnett / Owner Bill Mihelich
Open Classic Top 5
Champion – Play With Missy / Rider Keith Barnett / Owner Scott & Kathie Wilson
Res Champion – Just Countin Checks / Rider Mike Curmpler / Owner Cole Eslyn
3rd – Stylish New Player / Rider Adam Cunningham / Owner Scott & Kathie Wilson
4th – Just Add A Lil Pepto /Rider Kyle Cox / Owner Duane Birdsong
5th – Shanias Pepto / Rider Sean Brown / Owner Stephanie Britt
NON-PRO Classic Top 5
Champion – Steadys Merada / Rider/Owner Jan Crawford
Res Champion – Kiss Ah This/ Rider/Owner Ronnie Smith
3rd – Show Biz Harriott / Rider/Owner Lisa Rosewell
4th – SB Miss Queenie / Rider/Owner Lana Wells
5th – Reys Over Denver / Rider/Owner Robert Thigpen
---

Upcoming Events
---
May 19 - 21, 2017
ACHA Weekend - Brenham, TX
---
May 27 & 28, 2017
American Southwest Texas - Belton, TX
---
LATEST NEWS

RULE CHANGE:
There have been several rule changes for 2017
Click here to view!
---
2017 ACHA Weekend
May 19, 20, & 21
Washington County Fairgrounds
Brenham, TX
Kathy Daughn Clinic - May 18
CLICK HERE FOR INFORMATION
---
Thank You Sponsors
2017 YEAR END SADDLE SPONSORS:
Sam Munroe
Brenham McDonald's
Derk Harmsen Construction
David & Martha Wilson
The Paul Bassel Family
Ronney & Alana Coleman
Mitchell Pipe & Supply, LLC
2017 Year End Sponsors
Copenreygen
Tuesdays Highbrow
O & P Construction
Billy & Tracy Owens
Gehring Construction Co.
Bellville Abstract Co.
Leigh Ann Schultz
2017 ACHA Weekend Sponsors:
New LubriSyn Wound Care Product - "One Out of the Money"
Lee and Judy Barron
Jana Lowe
Bowers Veterinary Clinic
Tony & Jeannie Seamons
Lana Wells
Cletus Hulling Cutting Horses
Robert Fuentes Cutting Horses
Cowboy Breakfast
Independence Coffee
O & P Construction
Billy & Tracy Owens
Corky Sokol Cutting Horses
J & A Cattle Company
John & Annie Hightower
Somerville Feed / Thomas Moore
Derk Harmsen Construction